Looking Forward

Strategic Plan: 2020-2025
Introduction
The Penn State Schreyer Honors College, established in 1997, is recognized for excellence in providing a prestigious honors education at a top-tier public research university. We offer three levels of entrance to the college, from first to third academic years. The Schreyer Honors College offers students challenging academics, unique benefits, and a community of high-achieving Scholars with all the resources of a large research university. Scholars have access to Penn State's top-tier faculty, extensive facilities and resources, and the world's largest alumni association. Benefits of being a Scholar include priority course registration, scholarships, grants for research, internships, and travel, career development, signature study abroad opportunities, more than 300 honors courses, and opportunities to engage in leadership and service. More than $7.9 million is awarded to Scholars in grants and scholarships on a yearly basis to support our mission.
Nearly 2,000 Scholars are enrolled in the Schreyer Honors College in all academic disciplines at University Park and most of the Commonwealth Campuses. Scholars win a significant number of national awards annually, including Goldwater Scholarships, and compete with thousands of undergraduate students across the United States. Scholars are also involved in many service activities that provide assistance to various communities. We strive to create a rewarding and distinctive experience in which academics, leadership, cultural awareness, and service are integrated into a world-class education for our students.
Mission & Vision
Our mission and vision, established as part of the Schreyer endowment, are integrated throughout the College and reflected by our programs, requirements, and honors courses.
Mission
The mission of the Schreyer Honors College is to educate Scholars in an environment that promotes: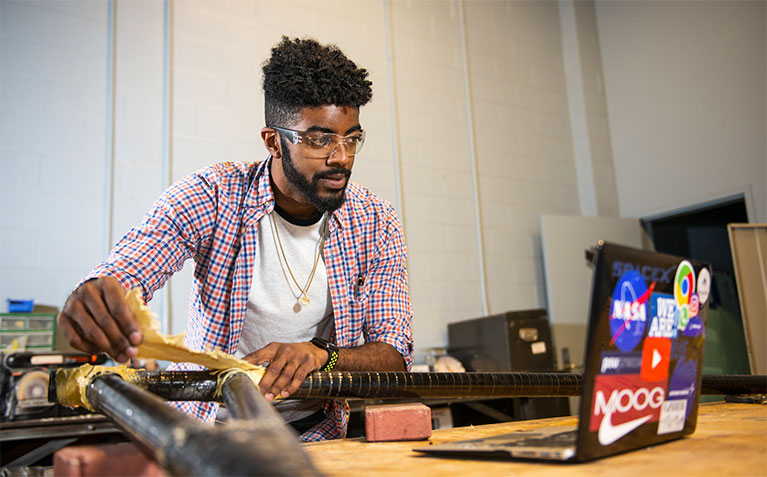 Academic Excellence
with Integrity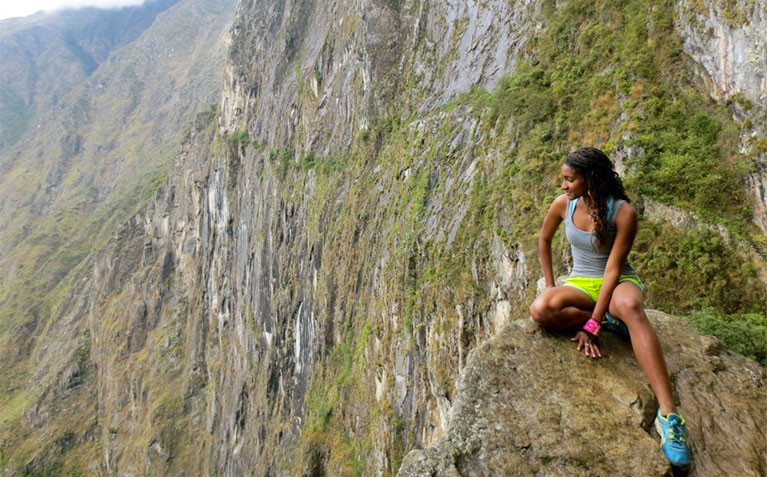 Building a

Global Perspective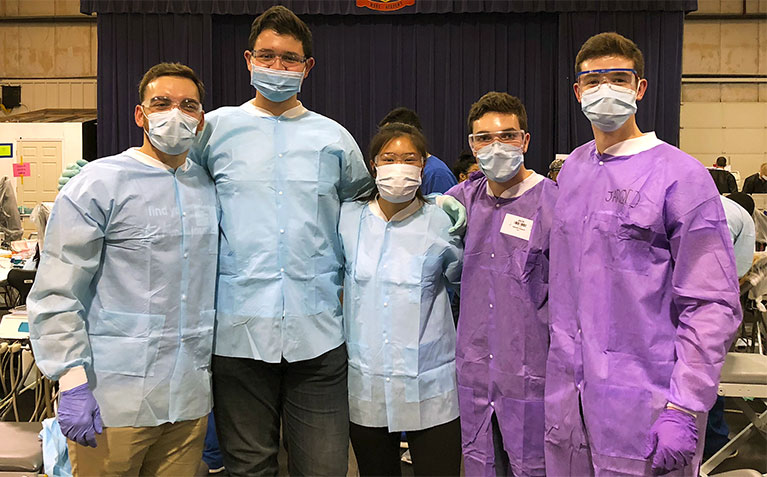 Creating Opportunities for

Leadership & Civic Engagement
Vision
To educate to educate students who will have an important and ethical influence in the world, affecting academic, professional, civic, social, and business outcomes. We also aim to improve educational practice and to be recognized as a leading force in honors education nationwide.
Student Learning Outcomes
The Schreyer Honors College is a committed advocate of the overall Penn State experience, and an engaged partner with numerous colleges, departments, and programs in the university. Its historic vision and mission lead it to be a multifaceted, holistic program that shapes its students to be moral agents that influence the world for the common good. More specifically, the ambitious task of the Schreyer Honors College is to invest in its students—in and out of the classroom—to the end that they will be committed to, and skilled in, providing principled leadership in the world, and contribute positively and effectively to professional, social, civic and intellectual outcomes.
Intended Student Outcomes
Educators always have hopes for what students will learn. Codifying these hopes is an attempt to identify what has come to be called intended student learning outcomes. As the Preamble above clearly attests, the Schreyer Honors College has high hopes for the learning experience of its students. More specifically, students who graduate from the Schreyer Honors College will:
Develop, engage in, and communicate scholarship in their field in order to examine and critically analyze selected topics, issues, or problems;
Embody ethical principles in personal, academic, professional, and societal contexts;
Demonstrate respect for human differences, understanding of global interdependency, and engagement in civic life; and,
Collaborate with others and demonstrate leadership by exploring opportunities or implementing initiatives.
These four learning outcomes are not mutually exclusive. Rather, they are best understood as being intertwined, having connections one to the others, both conceptually and practically. The Schreyer Honors College will intentionally and strategically provide curricular and co-curricular programs, initiatives, experiences, practices, policies, and procedures, in collaboration with its various partners at the university as appropriate and/or relevant, that it believes may bolster students' progress towards these learning outcomes.
Strategic Planning Process
The strategic plan presented below was crafted through a process that included input from staff, faculty, students, and alumni. The process began with the full staff being engaged during a retreat in August 2019, and again at staff meetings during the fall and spring semesters that followed. The smaller set of staff in the College's Leadership Committee were engaged separately and at multiple times. The faculty were engaged via the Faculty Advisory Committee (FAC) at several of their meetings during the 2019-20 academic year. Students on the Deans Student Advisory Committee were engaged in reviewing and providing input several times. In addition, students of the Presidential Leadership Academy provided input, especially to the initiative on health and wellness, and several students who are associated with the Penn State Sustainability Institute were very helpful in providing input. Alumni were engaged as part of the External Advisory Board and the Schreyer Alumni Society Board.
At each of the brainstorming meetings, attendees were presented with a set of questions, such as those below, to help focus brainstorming and discussions:
What value does the Honors College provide to Penn State, Pennsylvania, and the United States?
How might honors colleges evolve in the near- and longer-term future?
What strategies do you envision for the Schreyer Honors College to lead this evolution and to continue to be recognized at the top of honors colleges in the US as a leading force in honors education nationwide?
The results were categorized, refined, and summarized into strategic initiatives and goals, and the process repeated. Thus, the goals continued to be refined and improved over the 2019-2020 academic year. The final draft was reviewed by the entire Schreyer Honors College staff, the Faculty Advisory Committee, and the Dean's Student Advisory Committee.
Strategic Goals for 2020-2025
Six strategic goals have been identified:
Strive for Operational Excellence
Innovate the Schreyer Honors College Academic Experience
Build, Foster, and Embrace a Diverse Population
Enhance the Health and Wellbeing of the College Staff and Scholars
Enable Access to an Affordable Honors Education
Each initiative is described below.
Strategic Goal 1: Strive for Operational Excellence
The Schreyer Honors College provides a community for students who are committed to making the most of their undergraduate experience through enhanced curricular and co-curricular experiences. The Schreyer Honors College has seen significant growth and development over the past 20 years. Over the next five years, we intend to update and modernize the structure of the College to continue to be a leading force in honors education. Operational excellence is key to creating innovations and efficiencies that support Scholars in their personal and academic journeys.
Objective 1.1. Conduct a Self-Study of the Schreyer Honors College Model and Programs
Leading a strong, state-of-the art honors college at Penn State and providing a first-rate honors college experience is vital to attracting the best and brightest students to Penn State. For more than 20 years, the Schreyer Honors College has provided strong leadership in this area and enjoys an outstanding reputation across the nation. To discern where honors education at Penn State should head in the next decade, we will begin with a self-study of our current operational structure to assure that it is cutting-edge and relevant to the needs of Scholars, faculty, employers, and graduate programs, and society with minimal redundancies. The self-study will address programmatic, academic, and developmental structures of the College with an eye toward creating efficiencies. Over the past two years, the College has begun this process in an informal way as we have developed learning outcomes with the assistance of researchers from the College of Education's Center for Higher Education. The work of this objective will include and be reflective of those outcomes, reinforcing their role in the work of the College staff and success of our students. In other words, we will move toward a structure in which learning outcomes drive our operations.
Objective 1.2. Create a More Agile, Efficient, and Effective College Structure
The College has grown substantially since its inception in 1997, resulting in an increase in the volume of student programming and the number of college-sponsored events. Responding with agility to challenges and opportunities while also being efficient and effective will be key to implementing the results of Objective 1.1. The College maintains the following distinct areas: programs, development, strategic communications, finance, admissions, IT, the Presidential Leadership Academy, career development, and academics. Under a recent, minor restructuring, the reporting of these areas was split between the associate dean and the dean. In addition, cross-functional committees were developed to create a sense of cohesion and collaboration and to oversee critical areas, such as scholarship distribution, orientation, student support, administrative staff processes, and admissions. This has resulted in a significantly improved climate for teamwork across the areas. However, there is more that can and should be done. This objective will have the potential to move the College toward a more agile, efficient, cost-effective structure that supports the other goals in this plan and, at the same time, maximize intersections between the areas within the College. In addition, efficient operations will result in the ability for Strategic Communications and Information Technology to provide first-rate support to all of these areas in a coordinated, strategic manner. We envision that the objective will be achieved through a phased process over a five-year period with every effort to minimize disruptive or abrupt changes to any individual staff member's position or work. Based on observations and self-reflections during the last two years, we can begin by examining the following areas and taking action on those while continuing to conduct Objective 1.1.
Objective 1.3. Transition to an Adaptable Work Structure
During the COVID pandemic, all staff worked remotely. The transition from office to home as the work base was completed quickly; however, many of the staff had no experience in working remotely. Thus, there were multiple logistics and equipment needs for the IT team to address. As of this writing, staff have been working remotely for nearly one year. The experience has demonstrated that staff have adjusted, often in very creative ways, to working remotely. At the same time, Penn State Human Resources office is exploring the development of guidelines to provide a structure for staff to continue some level of remote work. Providing staff with options to work remotely, at least partially, will free up space for office sharing and create a people-centric organization that provides staff with more flexibility to balance commitments of home, family, and career. The key to being successful in transitioning to an adaptable, virtual structure is technology and a plan.
Strategic Goal 2: Innovate the Schreyer Honors College Academic Experience
Based on the initial, informal self-reflection during the last two years, we believe there are significant steps that we can implement right away during the first period of this strategic plan. Faculty, staff, alumni and students all contributed to the need for these changes. These are needed regardless of the outcome of Goal 1 and will support that effort in the meantime and help to assure that our Scholars are meeting the Learning Outcomes.
Objective 2.1. Rethinking the Global Perspective
The mission of the Schreyer Honors College includes building a global perspective. Thus, Scholars are expected to develop an awareness of cultures other than their own through their studies, travel, and other experiences. This has been aimed at international cultural awareness; travel abroad has been experienced by about 45% of our students each year; however, there are many cultures within the United States that are also well outside of the experiences and awareness of Scholars. In fact, Colin Woodward, in his 2012 book titled "American Nations: A History of the Eleven Rival Regional Cultures of North America," describes 11 nations within North America based on cultural differences. Including these North American cultures in the definition of global perspectives will greatly expand the perspectives of students. In this goal, we will develop opportunities for experiencing these cultures, along with other global opportunities. The Schreyer Honors College will also partner with Global Programs to develop an international honors consortium, connecting our Scholars to international institutions that are leveraging experiences for all of our students.
Objective 2.2. Develop a Required Third-Year-Level Course
Students can enter the Schreyer Honors College in their first, second, or third years. Only first-year entrants have the opportunity to take an honors class with other Scholars in a small class setting with many disciplines represented. Students often cite this class as a way to get to know other Scholars that they would not have encountered otherwise and hold discussions across disciplines. We will explore expanding this idea to a required course in the third year that will include all Scholars. We anticipate that this will be a Theory-of-Knowledge, Ethics, or English 202-type course that will challenge and teach students how to think across disciplines, cultural differences, and challenges. As part of the logistics of the course, we will determine who will teach it and how many sections are needed, and offer the course online so that Scholars at the campuses will also have access to the course.
Objective 2.3. Refine and Redefine the Thesis Requirements
The thesis is required of all Scholars, thus assuring that Scholars have met Learning Outcome #1, at a minimum. The subject, form, and approval of the thesis is handled by the Scholar in collaboration with the thesis supervisor in their academic discipline. Students sometimes find this requirement to be vague and have difficulty fulfilling such a nebulous requirement. The Schreyer Honors College will seek to refine and redefine this critical component of the honors education by developing required elements of the thesis and by expanding the definition of an acceptable form of the thesis. In order to assure that all Scholars fulfill the mission of the College, at least to a limited extent, we will explore options for required sections of the thesis, which may include statements of how their thesis and honors experience has expanded their knowledge and understanding of leadership, cultural competency, ethics, community engagement, and broader impacts of their research. We will also explore expanding the format to include small-team, multiyear projects that explore solutions to the grand challenges, focused on solving global health and development problems. These improvements are expected to increase student retention.
Strategic Goal 3: Build, Foster, and Embrace a Diverse Population
The Schreyer Honors College has worked hard to recruit, retain, and provide support for Scholars across a spectrum of backgrounds and experiences. However, there is still much to be done. The underrepresented group (URG) population within the College is not reflective of the general student population and is significantly less in every category, including URM, first generation, adult learners, veterans, LGBTQA, and low-income students. We seek to create a welcoming environment that extends opportunities to all high-achieving students. We believe this creates a rich foundation from which innovation, leadership, and cultural awareness can grow. We will create and strengthen opportunities for equitable access for traditionally underserved Scholars through inclusive experiences and programs.
Objective 3.1. Increase Diversity of the Student Population
The College can increase the relative URG population through strategic recruiting (retention will be addressed below). The Schreyer Honors College has had good results in recruiting at a variety of high schools, particularly in the mid-Atlantic. The percentage of URM students joining in their first year has approximately doubled in the recent few years as part of these efforts. The College has never recruited current students at Penn State to join as second or third-year students nor has it emphasized working with Penn State offices and units that support students from URGs. Thus, our URG representation is abysmal. In August 2019, the college hired a half-time Assistant Dean for Equity and Inclusion. She is now working with the Academic Council on Multi-cultural Affairs and will begin a program for recruiting high-achieving students from URGs. To improve results, we will increase financial support for these students and increase the visibility of support for diversity at recruiting events. While we do not wish to increase our numbers of entering Scholars in any given year, our goal is to ensure that entering populations reflect the diversity of the Penn State student population.
Objective 3.2. Create Inclusive Representation and Visibility
People want to see themselves reflected in whatever organization they join. Students considering joining the Schreyer Honors College are no exception. Diversity must become the default expectation. To create inclusive representation and visibility, we have worked to ensure that invited speakers reflect diversity in every possible way. Our Scholar Alumni Society is also a fairly diverse group. However, there is still much to do. The College aims to represent diversity across all areas described above in our External Advisory Board, alumni interviewers, annual report, Scholar Ambassadors, Dean's Student Advisory Committee, and our student and alumni mentors. In addition, improvements to the facilities should reflect the diversity we seek. International flags, posters, and other visible representations need to be a focus.
Objective 3.3. Provide Equitable Support for a Diverse Population
Regardless of the measure of diversity in any student population, the College is not likely to retain that diverse population without providing adequate support. Efforts to increase support for URG Scholars can take on a wide host of formats. However, we will initially focus on:
Developing programming for life skills and cultural capital to level the playing field;
Developing a strong orientation for entering second-year and third-year students, especially URG and change-of-campus Scholars, to improve the onboarding process and foster a deeper sense of belonging;
Including breakout sessions at SHO TIME for URG students on what they need to know about life in State College;
Developing a cohort model at time of admission to support URG students; create student organizations to support URG Scholars; and
Developing wrap-around support/triage for distressed students through collaborations with existing Penn State groups, such as the Student Minority Advisory and Recruitment Team (SMART).
If the budget allows, we will develop a summer bridge program beginning in the summer of 2021 for selected URG Scholars who have been accepted into the first-year cohort. The bridge will provide community connections for participating students, introduce students to support services available on campus, and create momentum by offering two foundational courses, one of which will be developed and taught by the assistant dean for equity and inclusion. Measures will also be taken to reduce participation costs through scholarships for tuition, housing and meals, and stipends that cover the opportunity costs of missing out on summer employment.
Strategic Goal 4: Enhance the Health and Wellbeing of the College Staff and Scholars
Wellness can be thought of as living a healthy and fulfilling life. It is the state of being physically and mentally healthy as well as emotionally and socially fit and creates the foundation for learning, creativity, and productivity. Penn State has placed focus and emphasis on this important issue. The Counseling and Psychological Services (CAPS), CAPS Chat, and Life Hacks with CAPS provide group and mental health counseling and crisis intervention for Penn State students. Penn State Student Affairs hosts an office for Health Promotion and Wellness that offers a wide variety of programs for students related to various aspects of a healthy lifestyle, including stress management, healthy eating and nutrition, sexual health, smoking cessation, sleep workshops, and fitness programs. Penn State also offers a wide array of fitness classes and facilities to meet the needs of the campus community. Even though there are so many opportunities at Penn State for health and wellness activities, Schreyer Scholars, as a group, continue to be highly stressed. This is likely due, in part, to the heavy load that Scholars voluntarily assume, including multiple majors, multiple minors, and leadership and participation in multiple student organizations.
Objective 4.1. Establish a Leadership Position in Health and Wellness
This goal will only be effective and sustainable if a position is developed and a leader is identified. Thus, a position will be created to provide leadership in the general area of wellbeing for both Scholars and College staff. Initially, an existing member of the College staff has been selected to lead this initiative. The staff member has certifications in the area of health and wellness to assure expertise in these areas. In Years 3 or 4, if the budget allows, this position will be reviewed and may be expanded to become an assistant dean, filled by a member of the Penn State faculty. It is anticipated that the position will be 1/4-time and the faculty member will have research and teaching expertise in this area. The person in this position will be responsible for developing and implementing initiatives and programs. The assistant dean should include a team of students and staff in this endeavor and will have access to an endowment specifically for this purpose.
Objective 4.2. Develop Partnerships
Penn State hosts a spectrum of facilities, offerings, mentoring groups, and activities around the subject of health and wellness. Thus, it is in our strategic interest to develop partnerships with Penn State organizations, especially Penn State Health and Wellness (for students only), CAPS, Exercise is Medicine, and Penn State Campus Recreation. A Health and Wellness Committee has been established with current PLA and SHC students, SHC staff and Health Promotion and Wellness. A survey will be sent to students and staff in the college to assess what areas are important to focus on based on the 7 Dimensions of Wellness. This will provide awareness of what is already being offered on campus and possibly expand programs related to the initiatives of stress management, fitness, nutrition, and quality sleep. In addition, we will seek collaborations with external partners in the State College area to provide a range of expertise and offerings, such as one-on-one consulting and workshops, for our staff. The College will develop and fund programs to cover the costs of the external vendor. For example, the College could fund personal consulting at X hours per semester for each staff member who is interested. This initiative depends on cost and availability of external vendors.
Objective 4.3. Develop Resources, Opportunities, and Programs for Staff
A newsletter will be created for staff on healthy tips and practices and campus events related to wellness. This same information will be repeated in the existing student newsletter. Occasional wellness events will be sponsored by the College, such as walks to the Palmer Art Museum, the arboretum, parks and other locations around town. Consideration of time for these walks for staff will be integrated into the program. We will also endeavor to combine these events with a wellness-related activity. As part of this objective, we will explore better use of outside spaces where staff can work in nice weather or take work breaks, host 15-minute stretches or exercise sessions prior to staff meetings, and conduct wellness-related workshops. To accommodate these programs, we will purchase and provide equipment, such as mats and stretching bands, for meditation, yoga, stretching, and Pilates to encourage easy access to brief rounds of exercise. These will be stored in an accessible location, such as C-9. Incorporating this in the physical space where staff work will be cost-effective for staff and may encourage greater participation and accessibility. In addition, we will explore the idea of providing healthy snacks, such as a basket of apples, similar to the Nittany Lion Inn basket.
Objective 4.4. Develop Resources, Opportunities, and Programs for Students
A number of wellness-related options have been identified for our students by students in the Presidential Leadership Academy. It is envisioned that we will develop green spaces in the courtyards of Simmons and/or Atherton where students can relax, study, and visit with friends. As identified by a group of students, we have very few outside spaces that have seating and are conducive to studying. In addition to seating areas, the spaces will include tables, fragrant plantings, and games. For indoors, we will conduct a feasibility study on the implementation of relaxation rooms in both Simmons and Atherton Halls. Although there is a university-sponsored relaxation room in the IM building, it closes at 5 p.m. when staff leave work. A survey of our Scholars showed that they would be most inclined to use a relaxation room after 4 p.m. The feasibility study will focus on whether there is a space that could be set aside for this purpose, what budget would be required, and how students might use the space. Another wellness option that we will institute is Schreyer Wellness Ambassadors. This will be coordinated with the Penn State Wellness Ambassadors, which is part of the Penn State Office of Health and Wellness. They will train our students and help them develop programs under the Wellness banner. Finally, we will explore the development of a proposal for an Honors Gen Ed course on healthy eating. This course will include topics such as nutrition, purchasing groceries, and high quality/low cost cooking. The course will include hands on cooking, shopping, and gardening to the extent possible.
Food insecurity has become a part of life for many college students. A recent article in the New York Times showed that as many as 45% of college students at 100 institutions experienced food insecurity in a one-month period. At Penn State, a recent survey found that 15.5% had difficulty concentrating on their studies because of hunger and not enough money for food, and 24.4% said that they had to cut the size of their meals or skip meals because there wasn't enough money for food. Recognizing the severity of the problem, Penn State and Ohio State engaged in a competition last fall to see which university could raise the most support for campus food pantries. Penn State operates the Lion's Pantry and four CUB pantries with a mission to address and mitigate student hunger at Penn State University Park campus. All students are welcome to the food at these pantries. Penn State is currently exploring other opportunities to ensure that all students have access to healthy and sufficient food. We do not know the current state of food insecurity in the Schreyer Honors College. However, we should assume that our numbers are representative of the problem among the Penn State student population. We must act in cooperation with the Penn State activities to reduce hunger to zero. We will partner with Lion's Pantry in establishing a CUB pantry in Atherton and/or Simmons, organizing food drives, increasing our emergency funding to cover food, and sharing the tremendous waste from food-centric meetings and events.
Strategic Goal 5: Enable Access to an Affordable Honors Education
The Schreyer Honors College has enjoyed a strong national reputation in large part due to its sizeable endowments. In addition to the $55 million in gifts from the Schreyer family, our development team has been highly successful in more than doubling that gift. The majority of our endowment spending goes to scholarships, which is key to providing access to a Penn State education and a first-rate honors experience. In the most recent two years, much of the emphasis on new scholarship funding has been placed on Scholars entering the College as second and third-year students. These Scholars do not receive an automatic Academic Excellence Scholarship but do have significant financial need. Thus, this emphasis will be continued as part of the current campaign and during the 2020-2025 strategic plan period. Attracting a diverse population of Scholars that includes under-represented groups, such as low-income Scholars, will also require attention to funding for recruiting activities, scholarships, and support programs.
Objective 5.1. Raise Financial Need Scholarships
The most important element that allows us to recruit a diverse population of Schreyer Scholars and for all students to successfully complete their degrees and earn the Scholars Medal is to assure that they are financially stable. As of the 2018-2019 academic year, Schreyer Scholars had an average unmet need of $11,751, which is roughly $4,000 below the average for all undergraduate students at University Park. In addition, Schreyer Scholars graduated with an average loan debt of $28,462 compared to $38,231 for undergraduate students that graduated from University Park. Need-based scholarships in the College are fully awarded each year, but there is still unmet need. We will keep our focus on raising additional scholarships to support the financial need of our Scholars regardless of when they enter the College and or their campus location. The Schreyer Honors College goal for the current Penn State campaign, which ends on June 30, 2022, is $17,100,000. The majority of that funding will go toward scholarships. For the remaining three years of this strategic plan, fund-raising for scholarships will continue as a top priority.
Objective 5.2. Expand Funds for Recruiting Events
The Schreyer Honors College currently has several key recruiting events, all aimed at incoming first-year Schreyer Scholars. These include Scholars Day twice per year, a guidance counselor luncheon, and two overnight events in the spring for accepted URG students. These events have proven to be very successful in increasing our incoming population of URM Scholars in particular. To expand such events to those under-served students in the current Penn State population (rising second and third-year students) could greatly increase our diversity amongst those students. These events are expensive and will require that we have funding that directly supports such events. In addition, dedicated funds would ensure that these events are sustainable into the future.
Objective 5.3. Fund Retention and Support Programs
The Schreyer Honors College will develop programs aimed at retaining and supporting all of our Scholars. These programs are described in other parts of this plan and include a summer bridge program for URG Scholars and health and wellness programs for all students. Other programs, such as no-hunger efforts and sustainability initiatives, will be funded from the endowment. Dedicated funding to Summer Bridge and other programs will help to retain Schreyer Scholars through appropriate and varied support programs.
Objective 5.4. Raise Funds to Expand Program Offerings
Some of the high-demand areas of the Schreyer Honors College are the travel, internship, and research grants, and the Distinguished Honors Faculty Program (DHFP). Schreyer Scholars apply for grants to support their honors experiences every year. In order to facilitate expansion of the global perspectives portion of the Schreyer mission to include North American cultural awareness, it is anticipated that Scholars will need additional funding for travel within North America. In addition, expansion of the thesis requirement to include team projects related to grand challenges and sustainability will also require additional funding to support Scholar efforts. The Distinguished Honors Faculty Program receives funding each year from a generous donor. As of the writing of this plan, the College has an endowment to support this program. Growing the endowment to support this popular program will ensure its long-term sustainability.
Mapping the Schreyer Honors College Goals
In this section, the Schreyer Honors College strategic goals are mapped to the Penn State strategic plan and the UN sustainability goals.
Penn State's strategic plan is based on a set of foundations that are woven throughout the thematic priorities and are essential in implementing each of them. The Schreyer Honors College strategic goals are mapped to each of the foundations and thematic priorities in Table 5. The six foundations are:
F1 Enabling Access to Education,
F2 Engaging Our Students
F3 Advancing Inclusion, Equity, and Diversity,
F4 Enhancing Global Engagement,
F5 Driving Economic Development, and
F6 Ensuring a Sustainable Future
Penn State's strategic plan highlights five thematic priorities, including:
TE Transforming Education,
EH Enhancing Health,
SP Stewarding Our Planet's Resources,
AH Advancing the Arts and Humanities, and
DI Empowering through Digital Innovation
In 2015, the United Nations (UN) developed the 2030 Agenda for Sustainable Development, which included 17 sustainable development goals (SDGs) to transform our world, with the overall goal of addressing global challenges. Details on each of the goals can be found at https://www.un.org/sustainabledevelopment/sustainable-development-goals/. The goals are listed here and mapped to each of the Schreyer Honors College strategic goals in Table 5:
GOAL 1: No Poverty
GOAL 2: Zero Hunger
GOAL 3: Good Health and Well-Being
GOAL 4: Quality Education
GOAL 5: Gender Equality
GOAL 6: Clean Water and Sanitation
GOAL 7: Affordable and Clean Energy
GOAL 8: Decent Work and Economic Growth
GOAL 9: Industry, Innovation, and Infrastructure
GOAL 10: Reduced Inequality
GOAL 11: Sustainable Cities and Communities
GOAL 12: Responsible Consumption and Production
GOAL 13: Climate Action
GOAL 14: Life Below Water
GOAL 15: Life on Land
GOAL 16: Peace and Justice Strong Institutions
GOAL 17: Partnerships to Achieve the Goal
Table 5: Mapping of the Schreyer Honors College Strategic Goals
SHC Goal
PSU Foundation
PSU Thematic Priority
UN Sustainability Goals
1. Strive for Operational Excellence
F2 Engaging Our Students
F6 Ensuring a Sustainable Future
TE Transforming Education
4. Quality Education
8. Decent Work and Economic Growth
16. Peace and Justice Strong Instutions
2. Innovate the Schreyer Honors College Academic Experience
F6 Ensuring a Sustainable Future
TE Transforming Education
8. Decent Work and Economic Growth
16. Peace and Justice Strong Instutions
3. Build, Foster, and Embrace a Diverse Population
F3 Advancing Inclusion, Equity, and Diversity
TE Transforming Education
5. Gender Equality
10. Reduced Inequalities
4. Enhance the Health and Wellbeing of the College Staff and Scholars
F2 Engaging Our Students
EH Enhancing Health
2. Zero Hunger
3. Good Health and Well-Being
17. Partnerships for the Goals
5. Enable Access to an Affordable Honors Education
F1 Enabling Access to Education
TE Transforming Education
1. No poverty
2. Zero Hunger
10. Reduced Inequalities
17. Partnerships for the Goals