Your Academic Path

Honors Courses & Options

Honors courses are a central component of the academic experience offered at the Schreyer Honors College. To serve our diverse and engaged student body, more than 300 of these honors courses are offered across a variety of subjects — whatever your interests and goals might be, you'll find honors courses to suit them.

Honors Course Search SRS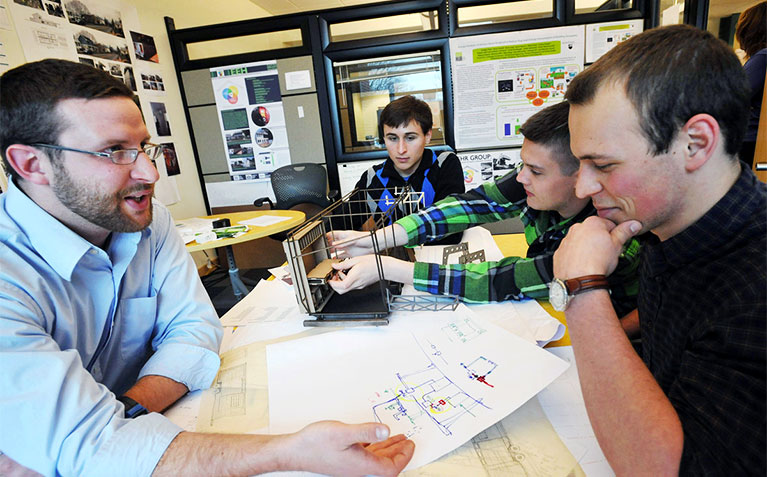 Engaged Study

Honors Courses

An honors course is a vibrant learning experience led by captivating instructors. With small classes of students, honors classroom dynamics are driven by lively, challenging discussion and energetic debate. Below are some examples of honors courses.

Honors Course Search
Enhanced Courses

Honors Options

An honors option is an agreement between you and the instructor of a course, with the approval of your honors adviser, to incorporate honors elements into a non-honors course. This gives the completed course an "honors attribute" on your transcript, and the credits count toward Schreyer Honors College requirements.

When you design an honors option, the aim is to provide significant enrichment without changing the core course. Honors option work may substitute for specified regular (syllabus-prescribed) work, or it may be additional. The honors option work should account for between 10 and 25 percent of the course grade, not as extra credit but embedded in the course grade.

There are two models for the honors option, traditional and review essay, as explained below.

=Tenure-line faculty (titles of assistant professor, associate professor, or professor) can supervise honors options in any format, subject to approval of your honors adviser. Other instructors (titles of lecturer, instructor, teaching professor, research professor) can only supervise the review essay option unless they have approval of the Schreyer Honors College. Graduate students and adjunct (non full-time) instructors may not supervise honors options. Contact SHCAcademics@psu.edu if you have questions.
Traditional Honors Option
For eligible faculty, honors options can take any form consistent with the general description above, subject only to the approval of your honors adviser. The range of possible honors option work is very broad — everything that could be part of an honors course, if that course existed. In courses with a professional practice orientation, additional or more intensive practice does not in itself constitute an acceptable honors option. There should always be a strong component of scholarly inquiry and reflection.
Review Essay Honors Option
While a traditional honors option may take many forms, the Faculty Advisory Committee of the Honors College has approved a standardized model based upon a review essay. This model has wide applicability across disciplines and majors and guarantees honors-appropriate enrichment.
This model of the honors option is required when the instructor is not eligible to offer the traditional honors option. It is strongly recommended for eligible faculty who are relatively new to Penn State, or have not previously offered honors options. It can be an attractive option for faculty who are eligible and experienced, but who are concerned about the time commitment of traditional honors options involving research or project supervision.
What is A Review Essay?
A review essay is a comparative analysis of several pieces of scholarly literature on a particular topic. It is a free-standing version of the "literature review" that is typically an early chapter of the undergraduate honors thesis. The pieces reviewed, typically journal articles, should be related rather than random, but they should be sufficiently different in questions posed, approaches used, or findings/results, to make for interesting comparisons in the review essay. The review essay should demonstrate your ability to summarize multiple works efficiently, analyze and critique them (going beyond "compare and contrast" to assessing the extent to which they ask the most important questions and get reliable answers), and suggest next steps for research.
The choice of scholarly articles is key to the successful and intellectually worthwhile completion of the honors option, so you should discuss this extensively with the instructor. The selected articles should be related but not redundant, keeping in mind that multiple people may be working on nearly identical things and getting them published in different journals.
Expectations for the Review Essay
While review essays can be of varying lengths and can be about varying numbers of works, for the honors option review essay we require the following:
4 to 6 scholarly articles under review
Uniform overall organization: statement of overall topic or question, discussion of articles, summary with directions for future research
Appropriate page length as determined by the instructor and honors adviser, subject to review by the Honors College
The honors option proposal for review essays does not have to list the specific articles, because that level of detail may not be possible by the submission deadline. The proposal should, however, specify the topic of the review essay, the number of articles to be reviewed, examples of journal titles, the expected length of the review essay, and a deadline within the semester for finalizing the articles to be reviewed.