Supplement Your Academics

Graduate & Professional Opportunities

Cultivate leadership skills. Interact with top faculty outside of the traditional classroom. Get a head start on your future and take advantage of programs designed expressly for Scholars to enhance your academic experience at Penn State.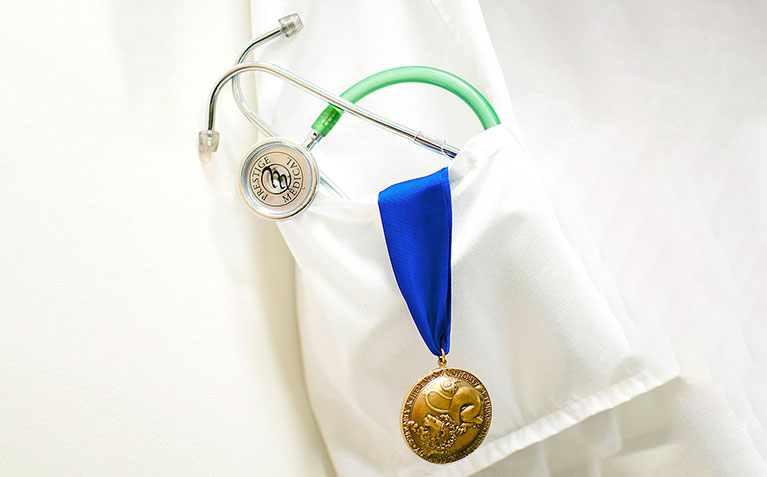 Earn Two Degrees at Once

Integrated Undergraduate/Graduate Programs (IUG)

There are two types of IUG programs at Penn State — programs approved by the University for all qualified students and a custom combination of bachelor and master degree programs only available to Schreyer Scholars.

Application for the first type of IUG program should be handled through your honors adviser, although you should contact Schreyer Honors College Academic Affairs once your application is accepted so we can make the appropriate notation in your records.

The second type of IUG program, offered only to Schreyer Scholars only, is summarized below.

Both types of IUG programs can have a significant impact on your financial aid. Review this information carefully before applying, and contact the Office of Student Aid if you have any questions.

Plan of Study Semester Report

The Schreyer Honors College provides ambitious, research-oriented students the opportunity to pursue simultaneous undergraduate and graduate degrees in programs with master's degree curricula. IUG may be appropriate for you if you have made accelerated progress in your major and if the fixed time periods traditionally associated with undergraduate, graduate and professional degrees or the sharp break between these levels of study do not serve any significant purpose for you.

IUG status allows you to take on the rigors and research challenges of graduate study at Penn State, and to coordinate and combine that study with your baccalaureate work. Because some credits earned as an undergraduate may be applied to both degree programs, the time required for completion of integrated undergraduate/graduate studies is normally less than that required to complete separate degree programs. The actual time required is determined by your objectives and needs. The acceleration of work in the major must not be at the expense of the richest possible undergraduate experience; therefore, you are required to demonstrate a balance between the accelerated specialization and a sound general education.

The advantages of Integrated Undergraduate/Graduate status are several:
It permits coherent planning of studies through the graduate degree, with advising informed by not only the requirements of the baccalaureate program, but also the longer-range goals of the graduate degree.
It permits and promotes higher levels of research accomplishment.
While still an undergraduate, with IUG status you will benefit from your association with graduate students whose level of work and intensity of interest and commitment parallel or even surpass your own.
Because the resources of the Graduate School are accessible to IUG students, you will have earlier contact with the rigors of graduate study (in some cases substituting graduate work for undergraduate requirements) and with graduate faculty.
For most students, the total time required to reach completion of the higher degree will be shortened.
*Note: The Schreyer Honors College cannot extend the Academic Excellence Scholarship (AES) for the fifth year of study if a student is planning to complete an Integrated Undergraduate/Graduate (IUG) degree. Exceptions may be made with evidence of high financial need.
In addition to having outstanding academic records, an established research record, and well-defined academic and career plans which include graduate study, IUG applicants typically have accelerated progress in their undergraduate major.
When evaluating applications for IUG, we seek records that indicate:
An outstanding GPA
Ambition in honors pursuit (e.g., number of honors credits, breadth of honors study, unusual depth of honors study)
Ambition in research
Balance of accelerated specialization and enriched general education
Favorable comparison with other applicants for graduate study and with other Schreyer Scholars in the department
Your IUG application should underscore the educational advantages you will derive from IUG status:
Clearly communicate why an IUG is an appropriate plan of study for you
Communicate a sense of purpose beyond acceleration to a professional certificate
Include any advantages derived beyond the major
Before applying, consider all of your options to make sure that IUG is truly in your own best interest.
Research and consider alternative graduate institutions and career paths
If you plan to pursue doctoral work, will you seek admission to other institutions?
Before Starting
Before starting the application process, determine whether there is a University-approved IUG or if a petition via the Schreyer Honors College is necessary. If there is a University-approved IUG, discuss it with your honors adviser and contact the appropriate graduate program office about application requirements and process. The application will go through that office and the Graduate School, and will not involve the Schreyer Honors College although you should make an appointment with the Coordinator of Academic Advising and Services to make sure you understand the thesis and honors credit implications.
If a petition via the Schreyer Honors College is required because the intended IUG is not on the University-approved list, discuss it with your honors adviser and the head of the graduate program. If they support your proposed IUG, meet with the SHC Coordinator of Academic Advising and Services to go over the petition process as well as honors thesis and credit implications.
Whether you pursue a University-approved IUG or one by petition, you are subject to all requirements for that graduate degree.
When to Apply (Petition)
Application materials may be filed during your fourth, fifth, or sixth semester of study. IUG applications submitted in the fall or spring semesters must be completed by 5 PM on the fifth Friday of the semester. Application materials completed after this date will be considered at the beginning of the following semester. We do not review IUG applications in the summer.
How to Apply (Petition)
Application Materials Checklist
2 or 3 Support Letters (Honors Adviser, Graduate Program Head, Research Mentor if required)
Personal Statement
Plan of Study
Curriculum Vitae (CV)
Copy of Graduate School Application (Summary Sheet Only)
All application materials must be submitted to the administrative assistant in the Associate Dean's Office in the Schreyer Honors College by the fifth Friday of the semester. Please deliver materials to C-10 Atherton Hall or send by campus mail to 10 Schreyer Honors College.
Support Letters (Graduate Department, Honors Adviser and Research Mentor)
Petitions required either two or three letters of support. All petitions require a letter (or email) of approval of the student's application by the honors adviser, and by the head of the appropriate graduate program. If you indicate on the Plan of Study that you intend to complete a single thesis at the master's level, you also need a letter (or email) of support from your research mentor, confirming that you can pursue a thesis at the master's level under their supervision. If you indicate that you will be doing two separate theses, or that your master's program does not require a thesis, the third letter is not required.
Personal Statement
The personal statement should complement support letters when addressing the criteria provided under Criteria for Evaluation and the evaluation elements described in the Evaluation Procedure below. The statement should also demonstrate your mature scholarly ability, communication skills, and potential for success in graduate study in the chosen field.
The personal statement should be divided into four categories and be responsive to the following required elements:
Include your name, your undergraduate major(s), your current cumulative grad point average, and your intended master's degree program.
Summarize important aspects of your academic experiences to date that ultimately led you to consider the IUG program.
Describe your long-term goals and how an IUG complements those goals.
Identify your research area that will constitute the focus of the graduate degree.
Plan of Study
The IUG Plan of Study shows a list of courses leading to the graduate degree, undergraduate degree, and those that are counted on both transcripts.
Your honors adviser must approve the undergraduate plan of study. The professor in charge of the graduate program must approve the graduate plan of study.
As an IUG student you may apply as many as 12 academic credits to both undergraduate and graduate degree programs. A minimum of 50 percent of the courses proposed to count for both degrees must be at the 500 level. Thesis credits may not be double-counted. Undergraduate honors requirements must be met by courses listed on your undergraduate transcript; 500-level courses used to meet those honors requirements and graduate requirements must be among those double-counted.
Please consult your honors adviser and professor in charge of the graduate program regarding specifics of the thesis submission.
Curriculum Vitae (CV)
You must prepare a curriculum vitae to be submitted as part of the application.
Graduate Application Confirmation
Petition IUG applicants must also complete the Graduate School online application. Include a screen shot of the general information page of your application with your petition materials.
Evaluation Procedure
If your application is approved by the Honors College, it is then sent to the Graduate School for approval.
If you are approved for IUG status at all three levels (program department/college, Honors College, and Graduate School), you will receive a letter of notification from the Director of Graduate Enrollment Services.
Important Things to Know and Do
Awards & Fellowships
In your graduate program year — typically the fifth year — you may be eligible for National Science Foundation awards and other research grants through the University Fellowships Office. You should make an appointment with the Director of the Undergraduate Fellowships Office as soon as your IUG is approved to discuss possible awards and fellowships.
Semester Report
Each semester, an IUG Scholar must complete the IUG Semester Report and submit it to the Graduate School by February 15 for Spring semester, June 15 for Summer semester, and October 15 for Fall semester. It must be signed by the student, graduate program head, undergraduate program adviser or honors adviser, college Associate Dean for Undergraduate Education and the Graduate School/GES (114 Kern Building). This form is required by the Graduate School in order to properly process courses taken by an undergraduate student so they can be counted toward the graduate degree or toward both the graduate and undergraduate degrees. Failure to submit these Semester Reports will result in no graduate level transcript.
Schreyer Honors College and IUG Status
A student may retain IUG status for as long as he or she remains in the Schreyer Honors College. If Schreyer Honors College status or IUG status is terminated, the provision allowing courses to count for both graduate and undergraduate programs ceases to apply, even for courses already completed.
Tuition Rates
Undergraduate tuition rates will apply as long as the IUG Scholar is an undergraduate (i.e. the baccalaureate degree has not been conferred), unless the student receives financial support, for example an assistantship, requiring the payment of graduate tuition.
Supercharge Your Journey Into Medicine

Pre-Med Programs

Scholars are fortunate to have access to several exclusive pre-med programs such as the Early Assurance Program and the MD/PhD Program.
Summer Exposure Program
As a precursor to the MD/PhD Program, Penn State Hershey offers a Summer Exposure Program explicitly for outstanding students in the Schreyer Honors College with a strong academic record and a passion for a clinical/research career. During the summer before your second year, students will spend 10 weeks working in a biomedical research laboratory at the College of Medicine under the guidance of a faculty member on the MD/PhD training faculty. In addition, they will shadow a physician during a weekly clinical exposure session.
In the Early Exposure Program, students receive a stipend and will participate in all SURIP (Summer Undergraduate Research Internship Program) activities, including a research forum at the end of the summer. Housing will be available on campus in Hershey at the student's expense.
Up to four students will be selected. Positions are only available for rising second-year students. Excellent students may be offered the opportunity to return for a second summer, between the second and third years.
More Information
MD/PhD Program
The Schreyer Honors College MD/PhD Program encourages students who have completed two summer of the Schreyer Honors College Summer Exposure Program to indicate interest in being considered for the MD/PhD EAS Program via the Penn State College of Medicine MD/PhD program office. Students will be contacted with a determination of whether an invitiation to interview will be extended. Students invited to interview will provide application materials as directed. Questions about this program may be directed to mstp@pennstatehealth.psu.edu.
Early Assurance Program
The Early Assurance Program is an affiliation between the Penn State College of Medicine and select undergraduate colleges, including the Schreyer Honors College. Its purpose is to offer conditional acceptance into medical school.
Apply to the Early Assurance Program
Requirements
The following requirements should be met prior to application
Cumulative GPA of 3.60 or above
Completed 8 out of 10 course requirements:

Biology (2 semesters and 1 lab)
Inorganic Chemistry (2 semesters and 2 labs)
Organic Chemistry (2 semesters)
Physics (2 semesters)
Biochemistry (1 semester)
Statistics (1 semester)
Additional Considerations
The following are reviewed in addition to your academic record — extracurricular activities, community services, medical experience and/or exposure (clinical observation, shadowing, internships, etc.), and letter(s) of recommendation.
Application Review
Applications are reviewed by the Schreyer Honors College Selection Committee. Finalists are submitted to the College of Medicine's Admissions Committee. Upon further review by the College of Medicine, selected finalists are interviewed and decisions offering early assurance admission are made by early August, prior to the start of the Scholar's third year.