A Distinctive Achievement

Honors Thesis

As a Schreyer Scholar, you are required to complete an undergraduate honors thesis as the culmination of your honors experience. The goal of the thesis is to demonstrate a command of relevant scholastic work and to make a personal contribution to that scholarship.

Your thesis project can take many forms — from laboratory experiments all the way to artistic creations. Your thesis document captures the relevant background, methods, and techniques and describes the details of the completion of the individual project.

Two Penn State faculty members evaluate and approve your thesis — a thesis supervisor and an honors adviser in your area of honors.

Browse Honors Theses Submit Your Thesis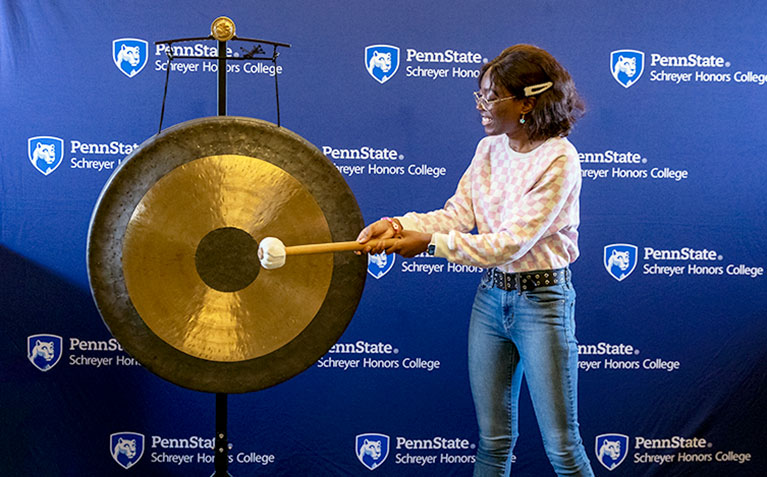 Planning is Key

Project Guide

The thesis is, by design, your most ambitious undertaking as a Scholar.

A successful thesis requires a viable proposal, goal-setting, time management, and interpersonal skills on top of the disciplinary skills associated with your intended area of honors. This guide will walk you through the thesis process. Keep in mind, though, that your honors adviser and thesis supervisor are your key resources.
Follow the Template

Formatting Guide

The formatting requirements in this guide apply to all Schreyer Honors theses. Please follow the thesis templates provided below:
Fonts & Color
Font Type
All text should use the Times New Roman font.
Font Size
Reduced type may be used within tables, figures, and appendices, but font size should be at least 11-point in size and must be completely legible.
Font Color
The majority of your thesis document should be in black font, however, color is permissible in figures, tables, links, etc.
Organization
Begin each section on a new page. Do the same with each element of the front matter, the reference section, and the appendix.
Try to avoid typing a heading near the bottom of a page unless there is room for at least two lines of text following the heading. Instead you should simply leave a little extra space on the page and begin the heading on the next page.
If you wish you use a "display" page (a page that shows only the chapter title) at the beginning of chapters or appendices, be sure to do so consistently and to count the display page when numbering the pages.
Page Numbers
Excluding the title page and signatory page, every page in the document, including those with tables and figures, must be counted. Use lower case Roman numerals for the front matter and Arabic numbers for the text. The text (or body) of the thesis must begin on page 1. Follow the template provided at the top of this section.
Title Page
Use the template provided as a pattern for creating your title page. Be sure all faculty members are identified by their correct professional titles. Check with the department for current information. Do not use such designations as "PhD" or "Dr." on the title page. (Ex. John Smith, Professor of English, Thesis Supervisor).
Electronic Approvals
Please submit your final thesis to your Thesis Supervisor and Honors Adviser at least two weeks prior to the final submission due date to allow them ample time for review and suggested changes. Also, please communicate with your professors to find out their schedule and preferred amount of time to review your thesis. Once your thesis is submitted, your committee will review the thesis one last time before giving their final approval.
Number of Approvals
A minimum of two approvals is required on each thesis. If one of the approvers has a dual role (e.g. Thesis Supervisor and Honors Adviser), then list both roles under the professional title. Do not list the same person twice. If the sharing of roles leaves you with fewer than the required number of approvals, an additional approver must be added (Faculty Reader).
Professional Titles
Be sure to identify all faculty by their correct professional titles. Check with the department for current information. Do not use such designations as "PhD" or "Dr." on the title page.
Abstract
This is a one-paragraph summary of the content of your thesis that identifies concisely the content of the thesis manuscript and important results of your project. Some students like to think of it as an advertisement — i.e., when someone finishes reading it, they should want to examine the rest of your work. Keep it short and include the most interesting points.
The abstract follows the title page, must have the heading ABSTRACT at the top, and is always page Roman number i. There is no restriction on the length of the abstract, but it is usually no longer than one page.
Table of Contents
The table of contents is essentially a topic outline of the thesis and it is compiled by listing the headings in the thesis. You may choose to include first-level headings, first- and second-levels, or all levels. Keep in mind there usually is no index in a thesis, and thus a fairly detailed table of contents can serve as a useful guide for the reader. The table of contents must appear immediately after the abstract and should not list the abstract, the table of contents itself, or the vita.
Be sure the headings listed in the table of contents match word-for-word the headings in the text. Double check to be sure the page numbers are shown. In listing appendices, indicate the title of each appendix. If using display pages, the number of the display page should appear in the table of contents.
An honors thesis manuscript should replicate the appearance of professional writing in your discipline. Include the elements of a formal piece of academic work accordingly. For specific questions on organization or labeling, check with your thesis supervisor to see if there is a style guide you should use.
Acknowledgements (Optional)
Acknowledgements are not a required component of an honors thesis, but if you want to thank particular colleagues, faculty, librarians, archivists, interviewees, and advisers, here's the place to do it. You should include an acknowledgements page if you received a grant from the University or an outside agency that supported your research.
Tables & Figures
A table is a columnar arrangement of information, often numbers, organized to save space and convey relationships at a glance. A rule of thumb to use in deciding whether given materials are tables or figures is that tables can be typed, but figures must be drawn.
A figure is a graphic illustration such as a chart, graph, diagram, map, or photograph.
Please be sure to insert your table or figure. Do not copy and paste. Once the figure or table is inserted, you right click on it to apply the appropriate label. Afterwards, return to the list of tables or list of figures page, right click on the list, and "update table (entire table)" and the page will automatically hyperlink.
Captions & Numbering
Each table and each figure in the text must have a number and caption. Number them consecutively throughout, beginning with 1, or by chapter using a decimal system.
Placement
Place a table or figure immediately after the first mention of it in the text — on the same page if there is room, or on the following page. Alternatively, tables and/or figures may be grouped together at the end of each chapter. Tables or figures of peripheral importance to the text may be placed in an appendix. Tables and figures must be referred to in the text by number, not by a phrase such as "the following table." Do not wrap text!
Style Guides
These parts of the thesis will vary in format depending on the style guide you are following. Your discipline will use a consistent style guide, such as MLA, APA, CBE, or Chicago. Whichever style you are using, stick to the rules and be consistent.
Bibliography/References (Required)
A thesis must include a bibliography or reference section listing all works that are referred to in the text, and in some cases other works also consulted in the course of research and writing. This section may either precede or follow the appendices (if any), or may appear at the end of each chapter. Usually a single section is more convenient and useful for both author and reader.
The forms used for listing sources in the bibliography/reference section are detailed and complicated, and they vary considerably among academic disciplines. For this reason, you will need to follow a scholarly style manual in your field or perhaps a recent issue of a leading journal as a guide in compiling this section of the thesis.
Appendices (Optional)
Material that is pertinent but is somewhat tangential or very detailed (raw data, procedural explanations, etc.) may be placed in an appendix. Appendices should be designated A, B, C (not 1, 2, 3 or I, II, III). If there is only one appendix, call it simply Appendix, not Appendix A. Titles of appendices must be listed in the table of contents. Appendix pages must be numbered consecutively with the text of the thesis (do not number the page A-1, A-2, etc.).
Academic Vita (Required)
The academic vita is required, must be the last page of the document, and is not given a page number or listed in the table of contents. The title — Academic Vita — and the author's name should appear at the top. A standard outline style or a prose form may be used. The vita should be similar to a resume. Do not include your GPA and personal information.
The Final Step

Submission Guide

Once your final thesis is approved by your thesis supervisor and honors adviser, you may submit the thesis electronically. This guide will provide the details on how to submit your thesis.
Open Access
Your electronic thesis is available to anyone who wishes to access it on the web unless you request restricted access. Open access distribution makes the work more widely available than a bound copy on a library shelf.
Restricted Access (Penn State Only)
Access restricted to individuals having a valid Penn State Access Account, for a period of two years. Allows restricted access of the entire work beginning immediately after degree conferral. At the end of the two-year period, the status will automatically change to Open Access. Intended for use by authors in cases where prior public release of the work may compromise its acceptance for publication.
Restricted
This option secures the body of the thesis for a period of two years. Selection of this option required that an invention disclosure (ID) be filed with the Office of Technology Management (OTM) prior to submission of the final honors thesis and confirmed by OTM. At the end of the two-year period, the work will be released automatically for Open Access unless a written request is made to extend this option for an additional year. The written request for an extension should be sent 30 days prior to the end of the two-year period to the Honors College Records Department, 10 Schreyer Honors College, The Pennsylvania State University, University Park, PA 16802, or by e-mail to honorsthesis@psu.edu. Please note: No one will be able to view your work under this option.
Electronic submission of the final honors thesis became a requirement in spring semester of 2010. Both the mandatory draft submission and the final copy must be submitted online.
The "official" copy of the honors thesis is the electronic file (eHT), and this is the copy that will be on file with the University Libraries. Electronic submission does not prevent the author from producing hard copies for the department or for personal use. All copies are the responsibility of the author and should be made prior to submission. The Schreyer Honors College does not provide copies.
How to Submit
In order to submit your thesis, you must upload a draft in PDF format to the Electronic Honors Thesis (eHT) website.
What/When to Upload
The initial submission, the Thesis Format Review, should be the textual thesis only and should be in a single PDF file (it may include image files such as TIFFs or JPEGs)
The recommended file naming convention is Last_First_Title.pdf
Failure to submit the Format Review by the deadline will result in removal from the honors graduation checklist. If this occurs, you must either defer graduation or withdraw/be dismissed from the Honors College
Uploading Video, Audio or Large Images
If your thesis content is such that you feel you need to upload content other than text to properly represent your work, upload the textual portion of your thesis first as a single, standalone PDF file. Then, add additional files for any other content as separate uploads.
If the majority of your thesis work is a multimedia presentation (video, slideshow, audio recording, etc.) you are required to upload these files in addition to your PDF.
Acceptable formats include:
Video

Apple Quicktime (.mov), MPEG (.mpg), Microsoft Audio Video Interleaved (.avi)

Audio

MIDI w/timing information (.midi), MPEG (.mpg), WAV (.wav)

Images

PDF or PDF/A (.pdf), JPEG (.jpg), TIFF (.tif)
Please do not upload any ZIP files. If uploading more than one file, keep individual file sizes for the supplementary material under 50 MB where possible. Large files will upload, but it may take a long time to download for future use.
Final Submission
In order to submit your final thesis:
Refer to the thesis templates above to create your title page (no page number).
Make sure you have correctly spelled "Schreyer Honors College".
Be sure to include the department in which you are earning honors, your semester and year of graduation (Ex. Spring 2019, not May 2019), your thesis title and your name.
List the name and professional title of your thesis supervisor and honors adviser (in the department granting honors). If your honors adviser and thesis supervisor are the same person, a second faculty reader signature from the department granting honors is required.
Include your academic vita at the end of your thesis without a page number and do not include your GPA or personal information.
Include your abstract following your title page (Roman numeral i).
Make sure your thesis is saved in PDF format.
Upload your final thesis on the eHT website.
After submission, your thesis will be reviewed one final time when you meet with the Coordinator of Academic Services at University Park or your Campus Coordinator. If corrections are required, your file will be deleted and you will be asked to make the changes and upload a new file immediately. Please bring a Word document version of your thesis with you on a thumb drive in order to easily make any requested changes.
Final Approval
When the final thesis is approved, the author and all committee members will be notified via e-mail of the approval. Your thesis will then be accessible on the eHT website within a month after graduation unless you have specified restricted access.